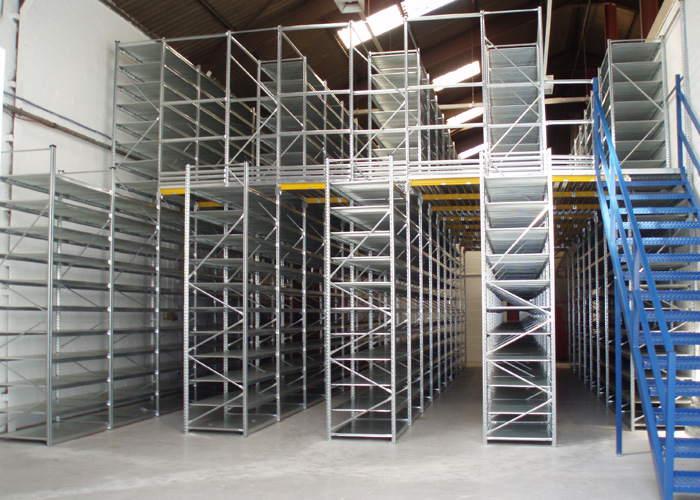 Mention warehouse, and most people think large draughty high ceiling buildings used for wholesale or retail applications and full of heavy weight warehouse shelving and products to match. With the explosion of small e-commerce businesses over recent years, a warehouse can be anything from a converted shipping container, to a unit in a lock-up self-storage centre. One thing which binds them all together is the need for adequate shelving.
Unirack's modular warehouse shelving systems are suitable for installation in the smallest to the largest of warehouse space. A system that's been designed to be as easy as a child's Meccano set to put together, you can start with a metre wide, three shelf system and expand as business dictates.
Although NOT designed to be used with forklift truck operations, it is still suitable for large warehouse operations where manufacturers, wholesalers or retailers store a large variety of different materials, or products.
While the bulk of your warehouse floor space may be taken up with heavy duty pallet racking and access-ways for forklifts. Unirack's warehouse shelving can be constructed in a small area and still provide storage space for a large amount of complimentary goods or spare parts.
Using Unirack's three tier stacking system in combination with our integral walkways, high volume storage can be achieved upwards rather than outwards with our modular mezzanine floors. Walkways can be constructed using ribbed, smooth or open planking and include high quality hand rails.
If you're wondering the best way to combine high density storage alongside heavyweight pallet racking, give our office a call. Our design staff will be more than pleased to discuss the project and produce CAD drawings of how the two systems can be integrated.
Unirack Shelving can design and supply your Unirack warehouse storage system, or design, supply and fit the whole system for you, no matter how large or small.
Based in Nottingham we are a national company covering the whole of the UK and have highly trained, qualified and competent Unirack fitters based up and down the country.
Whether you require industrial shelving, retail shelving, warehouse shelving or mobile shelving – here at Unirack Shelving, we can satisfy your requirements with cost effective prices you'll be hard pushed to find anywhere else.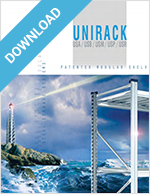 Download the Unirack brochure
It comes loaded with technical specifications and a list of the accessories available on Unirack systems.
Unirack is perfect for...
Production Facility Shelving
Industrial Unit Shelving
Factory Shelving
Tyre Shelving For Garages