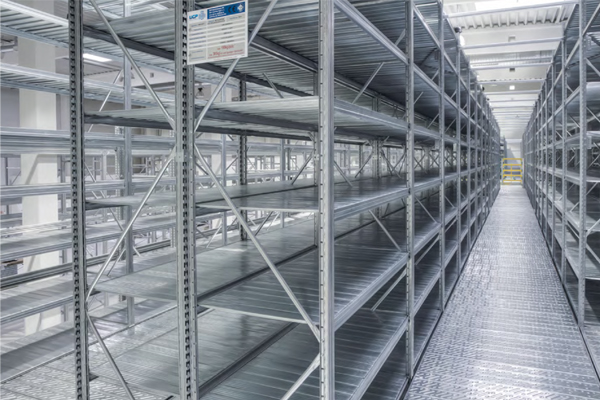 Unirack shelving has been manufactured for over 40 years. From those early days of extensive design and development processes, and including regular product improvements up to the present day, Unirack has evolved into the sought after modular shelving product it is today. Used by industry the world over, it offers an impressive number of construction alternatives, depending on products to be stored.
Whether Unirack is used for warehouse shelving, retail shelving, or mobile shelving, its ability to be extended quickly and easily as business expansion requires, makes it the most versatile shelving product on the market today.
As Unirack shelving increased in popularity, the manufacturer's years of experience in metal processing, and specialist technical expertise, allowed the development of additional modules to complement the existing range. Structural components are manufactured from high tensile steel, and certified to the highest standards, while ancillary sections are produced from lightweight, high quality zinc plated steel.
So what makes Unirack so popular?
Easy fast assembly using a majority of clip-together pieces.
Shelving which clips into bolted frames.
A whole range of height, depth and bay widths.
A massive range of interchangeable accessories.
An easy to manage lightweight system with high load bearing capacity.
Using this format, Unirack shelving is durable, easily handled, and simple to install for all applications.
And finally, it is the most cost effective modular storage system currently available.
Did we say Unirack shelving was versatile? If you have more height than length, then Unirack can be constructed in two tiers to eight metres high, and include suspended walkways USM-USR. Suitable for a maximum load bearing capacity of 300daN/ sq m, literally all of it is built from easily handled, lightweight, high-strength modular Unirack sections available from Unirack Shelving.
Versatile really is an understatement. With a maximum of three tiers up to 12 metres high, a whole range of different solid or perforated shelving, such as flat, angled, or even roller shelving can be installed. Shelves of steel, plastic or chipboard; trays, drawers, dividers, and modular containers; back panels in a variety of styles and materials, and hand rails for your walkways are all available as part of the Unirack system.
It's not all about warehousing either. With its slim profile, attractive finish, and cost effective easy installation, Unirack is gaining greater popularity in shop fitting projects. Used to fit out ladies or gents outfitters, hanging rail sections for suits, jeans, or dresses are easily incorporated.
Whether you require warehouse shelving, mobile shelving or retail shelving, we can design a Unirack shelving system which will ideally suit your requirements today, while preparing for your requirements tomorrow.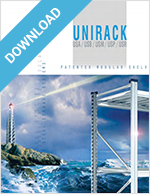 Download the Unirack brochure
It comes loaded with technical specifications and a list of the accessories available on Unirack systems.
Unirack is perfect for...
Heavy-Duty Industrial Shelving